Decorative Plumbing and Bath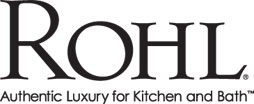 ROHL offers high-end, luxury faucets, sinks, and fixtures for America's finest homes, resorts, and hospitality projects. Headquartered in Irvine, CA, ROHL has helped thoughtful homeowners and
designers create personal expressions of authentic product for over 30 years. Anchored in traditional family values, trust, integrity, and innovation, the ROHL leadership possesses a dynamic entrepreneurial spirit that extends through the organization. ROHL's strength comes from a synergy of family and friendship in partnership with suppliers and customers.
From Traditional to Transitional to Modern, the ROHL line includes a wide range of top-quality faucets, fixtures, shower components and accessories. Sourced from Great Britain, Western Europe, North America and New Zealand, each is crafted to ROHL's rigid specifications and is uniquely tailored for each residential and commercial project.
Rohl Website
Rohl Price Book
Shaw Price Book
PINNACLE TERRITORIES –
FL, GA, AL, TN, MS, NC, SC, VA, DC, MD, PA, DE, WV, South NJ, OH, KY, IN,
and the Caribbean